3M Pneumatic sanders are equipped with adequate power to increase the grinding efficiency by which you get a smooth surface finish. New lightweight and efficient sanders 3M zaprojekowanymi handles ergonomically fit perfectly in your hand and provide convenience in use. Reduced to a minimum level of vibration ensures operator comfort. 3M Velcro pads ensure smooth operation. - Integrated with the device plugged in adapter allows Concentration to each central exhaust.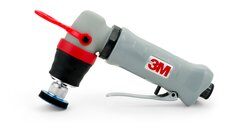 All product models are equipped with a powerful, high torque air motor that delivers higher performance disk system Roloc 3M. Easier to use, lightweight, compact design has reduced to a minimum level of vibration ensuring operator comfort. 3M ™ Gripping Material Greptile ™ perfectly fits the hand and ensures convenience in use. - Grinding machines are lightweight and extremely efficient and durable - Ergonomically designed for better operator - Available in the system: Tools 3M 3M + accessories + Abrasive 3M - 3M Pneumatic tools have a solid guarantee for 12 months and support service center.
All models are equipped with pneumatic motor with a power 1KM with high torque which makes the product is extremely durable and efficient. Ergonomically designed and built in safety features make it the tool of 3M can check in all conditions. 3M ™ Gripping Material Greptile ™ ™ provides a better grip thanks to the ergonomically zaprojekowanym rękojeściom perfectly fit to your hand and provide convenience in use. Cutters also feature adjust the direction of the exhaust.
Construction of new grinders 3M ™ Elite provides convenience and a wide range of tools and accessories allows you to perform the most complex tasks while ensuring comfort and durability. An ideal and comprehensive solution is the combination of all the tools, accessories and dust extraction 3M ™.
More information:



Łukasz Rosinski - Manager of Department
phone: + 48 665 865 150
l.rosinski @ konport.pl